A Touch of Classic Soul - Soul Singers of the Early 1970's
previous music book review | next music book review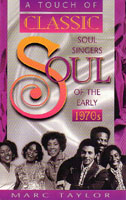 June, 2002 | Why were the O'Jays almost blacklisted from performing in the US? What's the real story behind the relationship between Teddy Pendergrass and Harold Melvin?
How does the X-rated rap queen, Millie Jackson, continue to sell out shows despite the lack of air play on traditional radio?
You'll love discovering the answers to these questions, along with some other very interesting stories compiled in a series of interviews by author Marc Taylor with over 30 legendary stars. I discovered this book by accident about a year ago through a brief mention in a community newspaper in New York City.
Wanting to know the real deal, I picked up A Touch of Classic Soul, and it's companion book, A Touch of Classic Soul 2: The Late 1970's (to be reviewed in a future issue of the Powerhouse Radio Newsletter).
Here are the inside stories of all of the super stars, solo acts, and groups who made R&B music in the 1970's. Marc interviews or profiles:
Bloodstone
Blue Magic
Chairmen of the Board
The Chi-Lites
The Delfonics
The Dells
The Dramatics
The Emotions
First Choice
The Friends of Distinction
Al Green
Isaac Hayes
The Intruders
Millie Jackson
Gladys Knight and the Pips
Jean Knight
The Main Ingredient
The Manhattans
Harold Melvin and the Blue Notes
The Moments (Ray, Goodman, and Brown)
New Birth
The Ohio Players
The O'Jays
Billy Paul
Freda Payne
The Spinners
The Staple Singers
The Stylistics
The Temprees
The Three Degrees
War
The Whispers
Barry White
Bobby Womack
Betty Wright
I love these kind of books where you can just start reading at any spot and just jump around. The stories are very entertaining. One serious common thread weaving through many of the tales: ignorance of the business side of the music industry held back the long term earning power of many of these R&B stars.
Now I know why there were two groups of competing Delfonics touring in the 1980's. Finally I have the 4-1-1 about all of those Playboy models hired by the Ohio Players for their risque album covers.
Taylor's writing style is informal and easy to enjoy. The tidbits of information pouring out of A Touch of Classic Soul make the book a joy for any fan of 1970's R&B. When you've finished this book, you'll be a fountain of information.
So how did The Dells become the musical consultants for Robert Townsend's movie, "The Five Hearbeats?" It's all in A Touch of Classic Soul: Soul Singers of the early 1970's.
----------------------------
Review written by King for the Powerhouse Radio Newsletter, June, 2002