A Touch of Classic Soul 2 - the Late 1970's
previous music book review | next music book review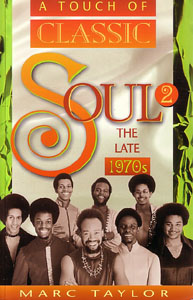 Kathy Sledge, of Sister Sledge, speaks candidly about why it's tough to make it in the music business in Marc Taylor's excellent book, A Touch of Classic Soul 2: The Late 1970's.
We reviewed Marc Taylor's first book in this series, A Touch of Classic Soul, in June, 2002. A Touch of Classic Soul 2 features 341 well written pages documenting the inside stories of 31 popular R&B acts of the late 1970's, (direct from the lips of the artists).
Kathy Sledge pulls no punches discussing the follow-up album "Love Somebody Today"), to Sister Sledge's mega successful "We Are Family..." "Sister Sledge at the time brought Atlantic Records out of the red but "Love Somebody Today" was promoted only to the R&B market. The company didn't market it as pop."
"They didn't have the wisdom to know that there are a lot of strong black artists who have a wide appeal."
----------
King's sidebar comment:
To me, Kathy nails the essence of the definition of the word "pop" in music. It's simply "wide appeal," nothing more, nothing less. Unfortunately, the music and radio industry both have failed as model "color blind" citizens. They readily apply race to music genre definitions.
----------
In the Taste of Honey chapter, group member Janice Marie Johnson laments that she's never received a dime of royalties for writing the new "Sukiyaki," a #1 R&B - #3 pop 1980 hit (produced by George Duke), - an update of a Japanese hit originally sung by Kyu Sakamoto.
We learn how the original writer gave Janice "permission" to rewrite the lyrics, only for her to find out a sham was in the making.
A Touch of Classic Soul 2 is happily about more than just negative experiences of these artists. Marc Taylor really did his research. Lots of fun and interesting stories fill the pages.
A couple of the longest chapters get inside of the fascinating Earth Wind & Fire, and Parliament - Funkadelic stories.
Taylor relates this anecdote from George Clinton of Parliament - Funkadelic, revealing a tour tidbit about being on the road after their early hit "(I Wanna) Testify" broke big:
"While on an early tour to promote "Testify," the band played a three-night gig at a college in upstate New York with Vanilla Fudge, a rock outfit that had scored a hit with a psychedelic cover of the Supremes "You Keep Me Hangin' On."
"The Parliaments had to borrow Vanilla Fudge's equipment because they did not have any of their own, and were taken aback the first night by how loud it was."
"In order to learn its proper use, Clinton reportedly purchased records on which the equipment had been properly applied - Jimi Hendrix's "Are Your Experienced," Sly & The Family Stone's "Whole New Thing," and an album by Cream." "The second night the Parliaments used Vanilla Fudges equipment, they were up to the task."
Every R&B fan should love "A Touch of Classic Soul 2," as it doesn't get any better than hearing these stories directly from the artists themselves.
Even though every chapter is interesting, I especially liked the stories from Con Funk Shun, The Brothers Johnson, and Chic. Here is the complete list of artists who tell all to Taylor:
A Taste of Honey
B. T. Express
Black Ivory
Brass Construction
Brothers Johnson
Candi Staton
Chic
Commodores
Con Funk Shun
Deniece Williams
Donna Summer
Earth, Wind & Fire
Enchantment
Escorts
Evelyn "Champagne" King
G.Q.
George Benson
Heatwave
Isley Brothers
Joneses
L.T.D.
Natalie Cole
Parliament/Funkadelic
Peaches & Herb
Persuaders
Rose Royce
Rufus featuring Chaka Khan
Sister Sledge
Soul Generation
Sylvers
Trammps
Review written by King for the Powerhouse Radio Newsletter.
----------
A Touch of Classic Soul 2: The Late 1970's
by Marc Taylor
Aloiv Publishing Company