Chaka! Through The Fire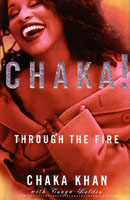 March, 2004 | Chaka! Through The Fire. Released in late 2003, this autobiography tells the personal story of Yvette Stevens, the lady who conquered the music world as Chaka Khan, the "woman of fire."
Yvette's story starts in Chicago, with lots of detail about her relationship with her mother and father, who were divorced when she was a teenager.
We learn about how the teenage Chaka Khan expressed a new personal awareness through her activities with Chicago's Affro-Arts Theater, and the Black Panther Party.
There's a good balance between feminism, family, and music as the reader is introduced to the early artistic stages of this 19 time Grammy Award nominated superstar.
Chaka talks about one of her first teen groups, The Crystalettes, who covered a lot of Top 40 tunes, including Gladys Knight and the Pips, Dionne Warwick, and Aretha Franklin. She says "Yeah, I got a little kick out of being called "Little Aretha," but I never wanted to be Aretha. Singing was just a natural thing to do."
Nothing is held back as the story takes off in the early 1970's when Chaka replaces Paulette McWilliams in Rufus (the group formerly known as The American Breed, who's big hit was "Bend Me Shape Me.")
It's all here, reflections of her friendships with Natalie Cole and Brenda Russell. How Stevie Wonder came up with "Tell Me Something Good," and how Ray Parker Jr. made a valuable contribution to "You Got the Love."
Chaka talks candidly about why a friend nicknamed her Chaka "United Nations" Khan, referencing her spirited relationships with different men from all over the globe.

We share her emotion through an interracial marriage, substance abuse, and her relationship with her children, and grandchildren.
The book also has an excellent discography arranged chronologically and by album, with sections devoted to her guest appearances, including television and film soundtracks, and compilation albums.
Chaka! is an inspiring story everyone should enjoy reading. Published by Rodale Press.
----------------------------
Review written by King for the Powerhouse Radio Newsletter, March, 2004.