Dream Boogie: The Triumph of Sam Cooke
previous music book review | next music book review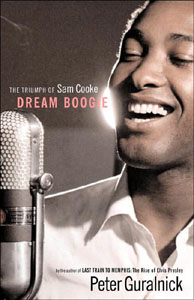 January, 2006 | Dream Boogie: The Triumph of Sam Cooke "He was the biggest star in gospel music before he ever crossed over into pop.

His first single under his own name, "You Send Me," was an historic success, going to #1 on the charts and selling two million copies."

"He wrote his own songs; hired his own musicians; and started his own publishing company. At a time when record companies treated black artists like hired help, he demanded respect and a recording contract equal to white artists of the day."

This description of Sam Cooke sums up his musical career adequately, but it doesn't describe the man behind the name. The fifth child of Reverend and Mrs. Charles Cooke, Sam was born into a family that believed in the Lord, self-respect and gospel music.
From the time Sam was six years old, he remembered, "I had to sing every Sunday in church, my daddy used to make me singall the time..." The first gospel group that featured Sam Cooke was called "The Singing Children."
His last gospel group from 1951 to 1957, the sensational Soul Stirrers earned him stardom within the African American community and propelled him into the world of secular music and adoring female fans.
From the age of nine, Cooke knew exactly what he wanted to do with his gift. His brother L.C. remembers, "When we was very little boys, we were playing, and he had these popsicle sticks—you know them little wooden sticks?
He had about twenty of them, and he lined them sticks up, stuck 'em in the ground, and said, "This is my audience, see? I'm gonna sing to these sticks." He said, "This prepares me for my future."
This is not a brief biography by any means and it is not a quick read. It's 750 pages are the result of meticulous research and personal interviews by biographer Guralnick. However, for all the interviews and research, Sam Cooke still remains a mystery.
We do get glimpses of his personal life through two marriages, extramarital affairs, illegitimate children and various tragedies like the drowning of his infant son Vincent.
His associations with musical legends like Johnnie "Guitar" Watson, Jimi Hendrix, Little Richard, Ray Charles, Jackie Wilson, James Brown, the Rolling Stones and Aretha Franklin, to name a few, are all part of his meteoric rise to fame.
Just as a meteor, sometimes called a "fireball or shooting star", burns bright and hot only to fall to earth and disintegrate, so did the life and career of Sam Cooke.
Cooke was killed at the age of thirty-three in a three dollar motel. The death remains shrouded in mystery, except for accounts by the prostitute and the hotel owner who killed Cooke in self-defense.
But the music speaks for itself. There is not one song sung by Sam Cooke that does not live up to his own measure of greatness.
Sam Cooke delivered, with songs like "You Send Me," "Having a Party," "Another Saturday Night," "Chain Gang," "Change is Gonna Come," and "Bring it On Home to Me," songs, that have stood the test of time.
Don't take my word for it. Check out these compilations:


Sam Cooke: Portrait of a Legend 1951-1954 includes the gospel
hits "Touching the Hem of His Garment' and "Jesus Gave Me
Water." (Abko Records 2003 92642)


One Night Stand! Sam Cooke Live at the Harlem Square Club
(RCA/Legacy 2005 82876 69552 2)


The Best of Sam Cooke ( RCA/Legacy 2005 82876695502)


Night Beat (RCA/Legacy 2005 82876 69551 2)
----------
Review written by Dorothy Ferebee for the Powerhouse Radio
Newsletter.
Dorothy is the author of
How To Create Your Own African
American Library
, featuring a selection of books that belong
in every home, from classic novels to children's stories
to history and biography.