Donna Summer Ordinary Girl
previous music book review | next music book review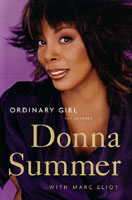 June, 2004 | Donna Summer: Ordinary Girl | Donna Summer's autobiography is an enjoyable fun Summer read.

LaDonna Adrian Gaines was born on New Year's Eve, December 31, 1948. She grew up in Boston with her parents and two sisters.
By the time she was 12, she was singing Diana Ross and Dionne Warwick songs.

On her approach to singing as an adult, Donna says "to this day I will approach a song as an actress approaches a script. I do not sing; I act."
"When I sing, I sing with the voice of the character in the song."
With this in mind, one can be somewhat forgiving when reflecting on "Love To Love You Baby," Donna's over the top exercise in heavy breathing that was a big 1975 disco smash.
"Love To Love You Baby" is not one of her personal favorites. Beyonce's "Naughty Girl" brought back the hook from "Love To Love You Baby" in 2003, complete with Donna Summer styled sensual panting.
By the time she was a teenager, Summer got involved in the cultural revolution that hit the Boston Common section of the city. She auditioned for and got a singing gig with a Blood, Sweat, and Tears styled rock band called The Crow.
(Not the same Crow group that had the 1969 hit "Evil woman Don't Play no Games with Me.")
She was the witness to a mugging during this period, and decided to relocate to New York City to avoid some local Boston hoods.
In the Summer of 1968, Donna was living in New York City's Greenwich Village and sharing an apartment with a roommate. One day, her roommate appeared at the apartment with the Broadway producer Bertrand Castelli, who just happened to hear Donna singing while he was outside of the apartment.
Donna was invited to audition for the upcoming German production of the new musical "Hair." She aced the audition. Next, it was off to Germany.
Her story really takes off from here. We share her experiences traveling through Germany, and then the rest of Europe, as success builds for her theatrical company.
Summer's many romances are documented, along with her first marriage to German Helmuth Sommer.
Taking time off after her marriage to have her first child, Donna slowly starts getting back into music, picking up singing work wherever she could.
A friend told her that producer Giorgio Moroder was looking for new voices for projects in Germany. The two hit it off professionally. Some of Donna's first recordings for Moroder were demos for the group Three Dog Night, (who Moroder was pitching songs to).
By 1973, Summer was recording bubblegum hits in German and making waves in the German top ten.
Early in 1975, Donna came up with the concept for "Love To Love You Baby," and gave it to Moroder. He became so excited about the "Love To Love You Baby," demo, that he took the song to MIDEM, an international music festival.
Moroder passed the song on to Neil Bogart of Casablanca Records. One intimate evening, Bogart and his wife played the 3 minute demo during an amorous moment. He liked the song so much he asked Moroder to expand it to 18 minutes. Now we know why.
Once "Baby" took off, the Donna Summer story relocates to Los Angeles. She leaves Europe and heads back to the USA.
As she enters the Hollywood good life, Summer shares with us tales of her bouts with depression, exhaustion, stalkers, ex loves, and the usual juicy fare you'd expect from a famous music diva.
From her humble beginning in Boston, to triumph and stormy years in Europe, through ups and downs in L.A. and New York, to her born again Christianity, there's a lot that everyone can gain from reading this book. It's a good one.
-------------
Review written by King for the Powerhouse Radio Newsletter, June, 2004.
For more information about MIDEM, go to: